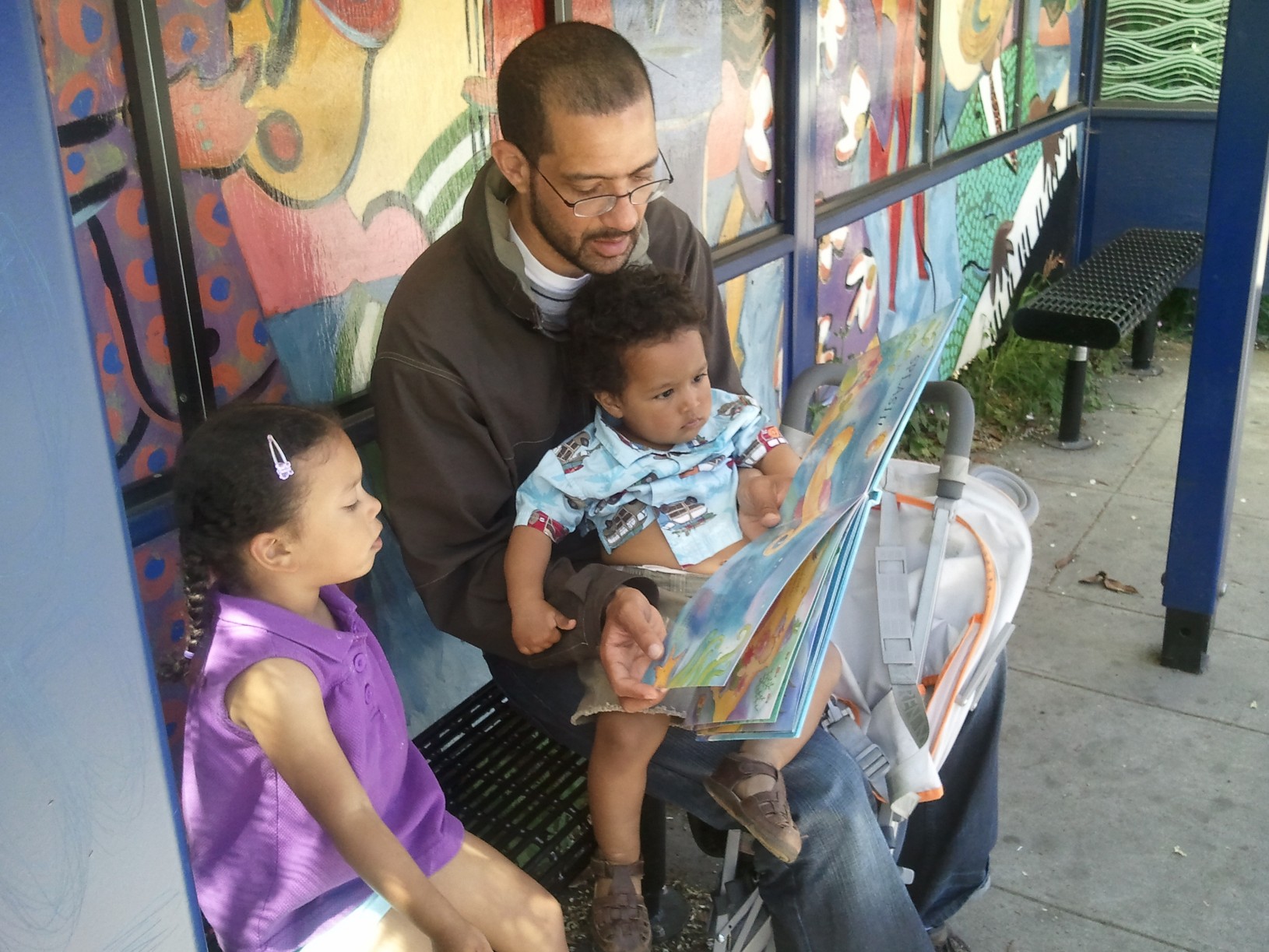 Here is the fifth in our series about families living carfree — please let us know if you would like us to feature your family! This installments comes from an interview with Carla Saulter, who is better known as Bus Chick. I was able to talk to Carla on the phone a while back about being part of a carfree family, which was a huge treat for me since I've been reading about her bus travels for the last several years.

The people of Seattle have known Bus Chick for a while. She's been a voice of transit in a city in which 84% of people or more own cars. "Seattle thinks of itself as a green city," says Carla, "but there is a lot of car ownership. There is a pretty good bus system and one light rail line, which runs from downtown south to the airport, so really, most residents of Seattle who use transit use the bus." Carla's family lives in the central district, directly east of downtown. It's close in, but not one of the densest or most served by transit. However, they are within walking distance of six routes, which can take them to all parts of the city. Their primary modes of transportation are buses and walking.
In terms of managing their day-to-day lives as a family, they have grocery and drug stores nearby. They also have a daycare, parks, two community centers, and a library within walking distance. This means that most of what the kids need day-to-day are right in the neighborhood. Before having kids, they went to a co-op for groceries, but with two children, that is generally too difficult. Delivery has been a life-saver for them. Now they get groceries delivered when the weather is bad, and support their neighborhood grocery store as much as possible (especially since they only have one grocery within reasonable walking distance, and its survival is obviously important to the families in the neighborhood without cars).
The biggest challenges they face are the same challenges that every parent faces –  juggling and balancing everything. It's a challenge to keep the kids happy, get errands done, deal with the weather, and manage the many things she has to carry. Figuring out all of the logistics is difficult, and much more so with two children than with one.
Before she met her husband, Carla had been a serious bus user, but was still, in her words, "clinging to car use." When she met her husband-to-be, he told her that that he did not own a car. She was inspired, and by the time they were married neither of them had a car.
Carla does see drawbacks to being carfree, even though it is a lifestyle that she enjoys and is committed to. She worries about what growing up carfree will be like for her children because they live in a place where being carfree so uncommon and the association with not having a car is that you are poor. She's raising her kids not to see that as a bad thing, but, as Carla says, "the kids are are going to deal with the implications of our choices whether we admit it or not." Another big drawback is the unpredictability of the changes in transit. "We chose our home very carefully due to its proximity to transit stops, routes, and services we can walk to. Now, one of our bus stops has been closed — for stop consolidation — and two of the routes we use most frequently are slated to be cut."
But balancing out these costs are a huge range of benefits. The bus provides ample bonding time with kids and for Carla that's one of the biggest benefits of using transit. As Carla says, "Rosa recently started reading and now reads to us–very beginning books, of course–on the bus!" For Carla's kids, exercise will be a normal part of their routine, and she hopes that their ability to get around on their own without a car will give them confidence as well as mobility as they get older. Carla and Adam specifically chose a neighborhood that they really wanted to be a part of. For Carla, being carfree "teaches you to make the best of the options that you have, not just drive away."
Why did Carla go carfree and why has she stuck with it as her family has grown? Carla says, "I started riding on the bus due to guilt about pollution and sprawl…Environmentalism is a part of it, but only part. It's such a different way of being in a city." She also says that she wants her children to know that she tries to live her beliefs. "Every value I have I trace directly back to riding transit — equality, being part of my community, making my community a great place to be, and sharing resources equally…There are times that I hate the bus, but there's something for me that's romantic about 30 or more people riding together. You don't know where they are from or what's going on with them, and maybe the only thing they have in common is this one ride…I like being on the ground in my community and sharing a place with people."
Read more of Carla's wisdom on  her website and at Grist, where she has written a guide to bringing kids on public transit (without driving yourself or other riders nuts) and many great pieces that we love, like those about talking to kids about being carfree, why public transportation is good for kids, and why cities are safe for kids.